vero's artists and makers
We are proud to exhibit the works of local artists and makers at our salon. Many of our past displays have been clients, and we are proud to share their creativity. For displaying your work at vero, please contact us.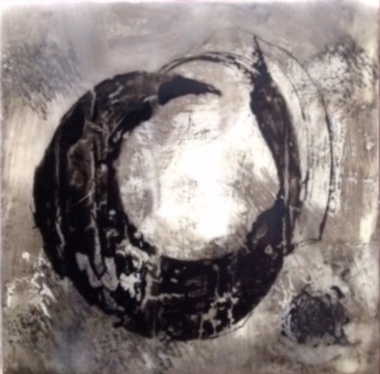 Lynn Elliot-Harding
What visually drew me to encaustic medium was its luminosity, translucence, depth, and warmth. And warmth is central to encaustic painting. Encaustic comes from the Greek, meaning "to heat" or "to burn". This ancient, almost 2000-year-old art medium has had a revival in the 20th and 21st centuries. Beeswax, combined with damar wax begins to cool the minute it leaves the heat source. Then each hardened, cooled layer is reheated to bind it to the previous layer of beeswax, building layers of story. Inclusions may be pigment, paper, silk. In this case the black pigment is supplied by India ink, and even more ancient medium that began in China. New images, abstractions, are created from the oldest of materials originating in cultures from which we bloomed.
Even Harrar
I came to photography by way of film & literature. I took film/video classes at the University of North Carolina, attended the London School of Film Technique in England, and later studied film at City College in San Francisco. This led to a career in video, which led to my present interest in photography.
The photographs presently adorning the walls of Vero For Hair were taken during the past year on four separate trips to Cuba. Most were taken in the old section of Habana called Habana Vieja. Several of the photos were taken in Santiago in eastern Cuba. The photograph on this page - Teacher Reading To Her Students was taken in Santiago.
Joel Kaufmann
Joel Kaufmann has been making photographs since childhood, and still has some of his dad's old film cameras… although the photographs in this exhibit were made using a much-newer Nikon.
He says of street photography: "My favorite street pictures are those that 'ask a story' – that go beyond (or through) form and color to raise questions about what happened before and after this moment, this frame plucked from time. This moment is true; it doesn't matter whether or not the story is true. There may be many possible stories, many curving lines coming through this one point. What's interesting is the question."

Contact: joel.kaufmann@att.net or 415-806-1932
Jan Nodding
I have been painting since I was a child. I went to art school and have a degree in Printmaking. I also enjoy photography and I love to paint from my photos. While I appreciate photorealism, I do not try to emulate that style. I enjoy realism, but with an impressionistic or more painterly style. I also do consignments such as pet portraits.
See my website at: jnoddin.wix.com/jann-noddin
Robin Rose
I am an artist and digital photographer. I became fascinated with collage, assemblage and digital compositing. I recently encountered air plants at a nursery and began to experiment with terrarium art, a new kind of assemblage. I am delighting in creating art forms with these unique, often alien-looking living plants that thrive on nothing but air and occasional watering.
Website: robinrosedigitaldreams.com
Ellen Salazar
Ellen Salazar learned to bead when she retired from teaching high school math and science. Her math background draws her to the almost infinite number of patterns and combinations in beading. A lifelong love of color and pattern makes beading a natural fit. Ellen is especially inspired by Art Deco, Native American and geometric patterns and loves experimenting with shape and color.
Suzanne Saul
After retirement from 40 years of teaching Fine Arts in the high school systems of Glendale, California, I created a series of works that dealt with environmental concerns. My desire was to comment on current social issues through satire. My work in Southern California was exhibited in many vinues including the Laguna Beach Museum of art.

After moving to The Bay Area, I now find myself in a transition in my approach to painting. Abstraction is creeping in, and I find a new love and joy of the pure application of paint. Some images are apparent, at times, but the more formal concerns are with the juxtaposition of color, line and shapes and the movement created throughout the composition. I start with no preconceived idea, shapes merge, disappear, reappear to be reborn, and create a narrative of some sorts until it all seems a finished dance.

Contact: suzsaul@gmail.com